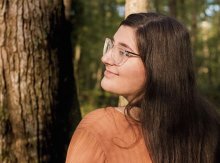 Brookelyn Mitchell (she/her) is a third-year in the College of Arts and Sciences. Brookelyn is an Echols Scholar, double-majoring in Politics and Environmental Thought & Practice with a minor in Religious Studies. Brooklyn is involved in various activities and organizations, including serving as the President of FLIP, the Chief of Cabinet for Student Council, an Office for Sustainability student employee, a Newcomb Operations Assistant, and a student rep on the Hoos First Advisory Board.
Favorite Class: "Without a doubt, hands down, my favorite class has been Religion, Ethics, and Global Environments with Willis Jenkins. I learned how to see the environment from different perspectives, how religion shapes our perceptions of the relationship between humanity and nature, and analyzed different ethical frameworks that I've carried with me since taking that course!"
Favorite Spot on Grounds: "When it's cooler outside, the Pavilion VIII garden is generally quiet and peaceful which makes it a great spot for connecting with nature during a busy day or even to do homework."
Book Recommendations: "Braiding Sweetgrass by Robin Wall Kimmerer is one of the most beautiful reads! It highlights indigenous perspectives relating to nature, and Kimmerer's writing is so vivid and imaginative!"
Other Fun Facts: "I have 4 cats – Olive, Butternut, Fern, and Frank! I'm also a huge Swiftie, with Speak Now being my favorite album!