Food Insecurity
It has become increasingly difficult for students nationwide to bear the rising costs of college tuition and living expenses while earning a degree and balancing other responsibilities. Many UVA students find themselves facing the impossible choice between making ends meet and buying nutritious food and hygiene items. If you're struggling to afford the daily essentials you need, please access the resources below. We're here to help.
Did you know?
Food Insecurity is the limited or uncertain availability of nutritionally adequate and safe food. While marked by physical sensations of hunger in its most extreme form, more often it looks like:
Deciding which meal during the day you can afford to eat;
A diet primarily consisting of cheaper processed foods like instant noodles;
Not getting enough fruit or vegetables due to the higher cost of fresh produce;
Cutting or stretching the size of meals to make multiples meals out of one meal due to financial constraints.
In fall 2018, the Office of the Dean of Students gathered a group of students and professional staff to address food insecurity at the University of Virginia. The Food Insecurity Resource Group (FIRG) is dedicated to creating sustainable support for students facing food insecurity.
If you have questions about any of the resources below or would like to reach out for individualized support, please email [email protected].
On-Grounds Resources
CFP welcomes anyone in the UVA community with need to take as they please. Items are available on a first come, first served basis.
Location: Newcomb Hall, Student Activities Center (First Floor, Room 144)
Items Available: Hygiene products (shampoo, soap, sanitary pads, and tampons), single-serving soups and pastas, canned vegetables, shelf-stable items (rice, pasta, etc.), snacks, and, periodically, fresh produce (fruits and vegetables).
Hours: Monday-Thursday, Saturday 7:00 a.m.-12:00 a.m.; Friday 7:00 a.m.-9:00 p.m.; Sunday 8:00 a.m.-12:00 a.m.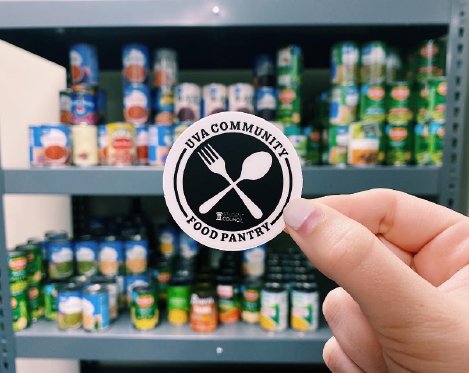 Satellite Food Pantry Network
The Satellite Food Pantry Network is part of FIRG's effort to meet students where they are and provide basic nutrition and hygiene products at no cost. The network currently includes four locations on Grounds with more locations being added as the program expands. Hours at each location is subject to the operation of the building as well as the individual departments that stock the pantry.
Location: School of Engineering (Thornton A121)
Items available: Single-serving soups and pasta, canned meats and vegetables, fresh fruit, frozen single-serving meals, snacks and cereals, sanitary pads, and more.
Hours: Hours vary due to staff shortage. See updates in the SEAS newsletter.
Location: Higher Education Program within the School of Education (Ridley 285) in a filing cabinet labeled "Higher Education Program Pantry"
Items available: Snack items, single serve pasta meals, canned fruit, cheese sticks, single-serve oatmeal, and peanut butter. (Meant for short-term support)
Hours: Weekdays 7:00 a.m.-9:00 p.m.
Location: Maxine Platzer Lynn Women's Center (1400 University Avenue)
Items available: Tuna, noodle bowls, rice, nuts, peanut butter, oatmeal, beans, soups, applesauce, packaged dairy products, and basic hygiene products.
Hours: Check WC website.
Location: School of Nursing (Claude Moore Nursing Education Building), located at a table next to receptionist's office
Items available: Grab-and-go meal options, snacks, and some fresh items depending on donations and seasonal availability.
Hours: Monday-Friday 7:00 a.m.-6:00 p.m.
Community Resources
There are a number of local resources available in the City of Charlottesville and Albemarle County. A map of resources compiled by Cultivate Charlottesville is available here. In partnership with the City of Charlottesville and other groups, Cultivate Charlottesville also launched a 24/7 phone number you can text for information about free food sources near you: 844-947-6518.
CommonHelp is the Commonwealth of Virginia's fast and easy way to apply online for many financial assistance programs. Through the CommonHelp website you can find out what assistance you may be eligible for and submit one application saving you time and effort.
You can apply online through CommonHelp or in person at their office for the following programs:
Child Care Services
Energy Assistance (Cooling, Heating, or Crisis)
Financial Assistance Programs
Medicaid
Supplemental Nutrition Assistance Program (SNAP) (Formerly known as food stamps)
Temporary Assistance for Needy Families (TANF)
You can also use the CommonHelp website to:
Check your benefits
Renew your benefits
Link your account to a case
Report changes to your case
Update your account
Use the link above to navigate to the CommonHelp website.
Students working at least 20 hours a week in a federally funded or state work study program are automatically eligible for assistance with food needs through SNAP. Apply online using the above link and an individual from Social Services will follow up with information on next steps.
Loaves & Fishes offers both USDA food and "pantry" groceries. During the pandemic, USDA food is given up to twice a month for each qualifying household through the Emergency Food Assistance Program, a federal program that supplements the diets of low-income Americans. Individuals who earn more than the USDA's guidelines for income (150% or less than federal poverty guidelines) can access "pantry" items. These clients can visit L&F twice per calendar month. On your first visit, please bring the names and birth dates of everyone in your household and total monthly household income. You can elect to get groceries via drive-through or by appointment.
Drive-through hours: Wednesdays 2:00-4:00 p.m, Thursdays 6:30-8:30 p.m., Saturdays 10:00 a.m.-12:00 p.m.
Appointment hours: Tuesdays 3:00.-7:00 p.m.
Items available: Fresh and frozen foods including fruits, vegetables, breads, frozen meat, fish, and eggs. 
(434) 996-7868
2050 Lambs Road, Charlottesville
*Bus Information: Located closest to Georgetown Road at Hydraulic Road (northbound) stop, CAT Route 5. Contact the Office of The Dean of Students for more information about transportation to Loaves & Fishes.
Clothing Donation Organizations
Salvation Army Thrift Store: 605 Cherry Ave.
CVBA Clothing Center: 434-906-3300. 815 Boiling Ave. Appointments not required. Open Mondays 10 am -1:30 pm.
Twice is Nice Thrift Store: 923B Preston Ave, 918 Preston Ave.
Green Olive Tree: 823-4523. Open 11-4pm Monday-Saturday.
Church of the Brethren: 973-3639. Call and leave message.
Hinton Ave Methodist Closing Closet: (434) 293-7049 750, Hinton Ave, Tuesdays from 10am-1pm