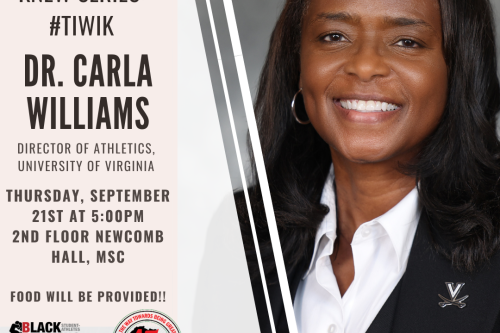 Location
Multicultural Student Center
Host
Multicultural Student Services
Introducing "Things I Wish I Knew" – An opportunity to meet with UVA faculty, staff, and community members and learn about their journeys – both personal and professional.
Join us as we dive into the wisdom and experiences of Carla Williams, our very own Director of Athletics. From breaking barriers to shattering stereotypes, Carla has paved her own path to success, and she's here to share her invaluable insights with YOU! Discover the hidden gems of her journey, the lessons learned along the way, and the game-changing advice that could steer your future in a whole new direction. Don't miss out on this incredible opportunity to gain a competitive edge, both on and off the field. Mark your calendars and get ready to be inspired! 
Stay tuned for more details on this enlightening series – because the best is yet to come!